Mechanical Systems Luton are a quick, easily accessible way to ensure your business keys and assets stay secure at all times. Why not consider investing today with Keytracker Mechanical Systems…
Keytrackers' Mechanical Systems
Keytracker's mechanical systems have been designed and manufactured with security at the forefront. Designed for simplicity but high levels of security, they are a great solution for a range of industries and SME's. Keytracker has been a leading supplier for the automotive sector and the property & estates sector for a number of years, as the mechanical system provides industries with the much anticipated high-level of security for their keys and assets.
The Benefits of Mechanical Cabinets & Accessories
Investing in mechanical systems will allow your business to operate smoothly and efficiently especially with the support of the mechanical cabinets and accessories. Keytracker supply a range of cabinets, each designed specifically to enhance your security experience. The addition of accessories assists with seamless management of your keys and assets. A few benefits of mechanical systems include:
Ease of Identification: Removed keys can be identified via the access pegs used to remove them from a peg board.
Authorisation Access Only: Mechanical Systems can be accessed by authorised personnel only, with keys only being replaced by those with access pegs.
Loss Prevention: These systems have been designed to reduce the loss of keys with only authorised people removing keys at any time.
Improvements in Internal Operations: These systems can improve and speed up internal operations due to their ease of use, aiding in improved internal operations overall.
Reduction in Human Error: With keys only removable via access pegs, the reduced the likelihood of them being lost or taken by unauthorised personnel. It can reduce the human error risks.
Mechanical systems not only bring these aforementioned benefits, but they are an ideal solution for small businesses with lower security needs and requirements.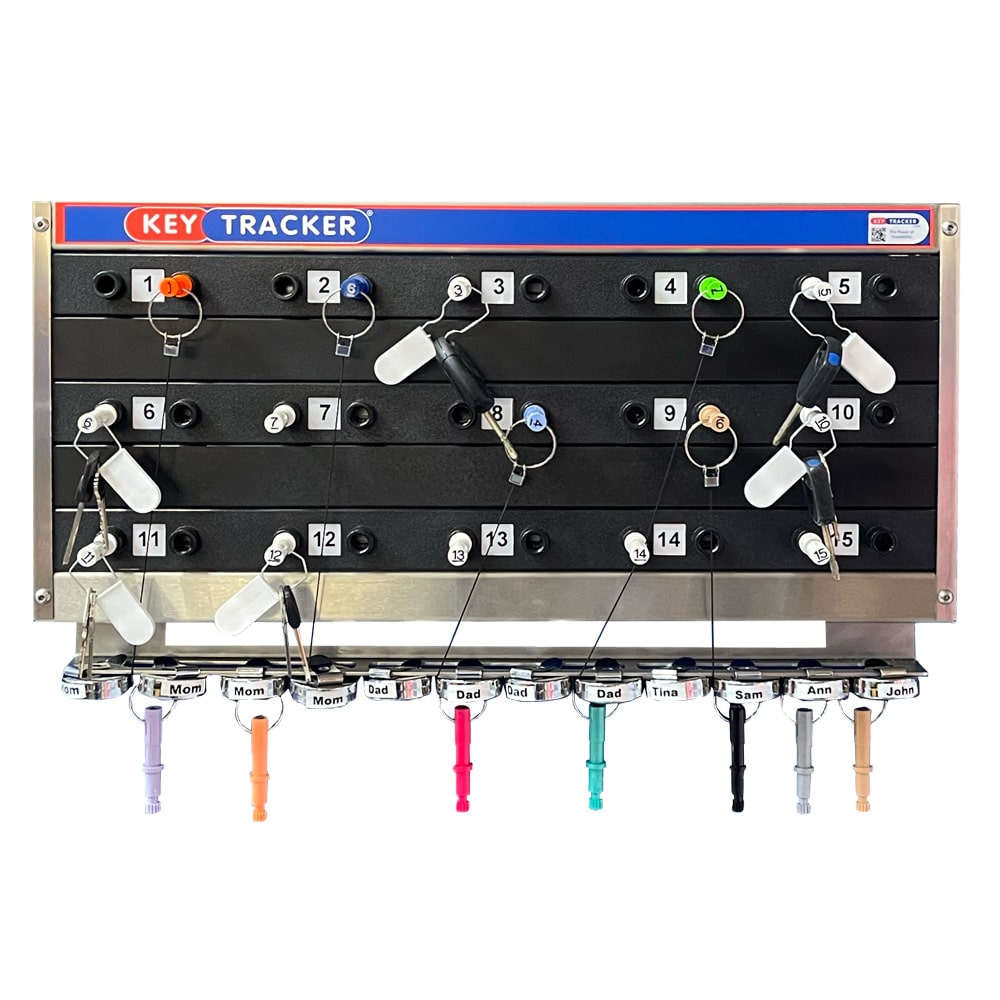 The Right Mechanical Solution For Your Business
Keytracker's mechanical systems range is designed and manufactured to provide secure, fast-access methods for managing your business keys or equipment. Each system works cohesively with the accessories that Keytracker has to offer.
The peg boards have been designed and manufactured by Keytracker in a range of sizes to ensure that your business has higher levels of security and accessibility for their keys and assets.
An affordable solution for contactless service that ensures your staff belongings and assets remain secure at all times.
A complete block and keytag system offering a cost-effective and easy start to key security.
Accompanying pegs for Peg-in, Peg-out boards, ensuring access for authorised personnel only and reducing the loss of keys in business operations.
A range of products including anti-tamper seals, key tails and key rings, mirror hangers and more. These accessories have been designed to offer additional security options without your business.
Keytracker are proud to have worked with and provided solutions for a vast range of clients. Our case studies highlight these opportunities and give insight into how Keytracker has already been helping business of all sectors and sizes with their key and asset security.
Lookers PLC and Marshalls Motor Group are two case studies for Keytracker. Both spent time researching the available options for better key and asset security and found Keytracker's Mechanical Systems.
Read more on these and other case studies today.
For more information on our Mechanical Systems or Accessories, you can take a look online today. If this is the solution for you, you can purchase with us today.
If you have any further queries, our team are available to assist you, finding the right solution for your business. Contact us today at Keytracker Luton or complete our contact form online and a member of our team will be in touch with you as soon as possible.
You can take a look at our 5* Reviews online too!