Have you ever considered working with us at Keytracker? Are you a potential reseller, agent, or distributor? We have some exciting partner opportunities available….
Let us tell you more…..
The Keytracker business model gives you access to brilliant market-leading products with regular consumable accessories and good margins.
The Keytracker end user is always a business or department but may be of any size or type.
Established in 1996, Keytracker is the UK's most prominent manufacturer of both mechanical and electronic, key and asset management systems, as well as software to keep track of all items in the workplace.
Proud to produce the largest range in the world; Keytracker systems significantly reduce the amount of time spent managing keys and assets across every type of operation, whilst providing quick and easy access for authorised personnel, streamlining time management, improving security and efficiency. Keytracker systems also ensure that keys and assets are perfectly organised at all times.
Continually working hard to create systems of all sizes that are completely suited to customers' individual needs, we regularly develop new & innovative products to exactly match our client's requirements.
Offering the widest range of products available ensures that you can always offer your customers everything they need in terms of key and asset security, at the best possible value for money. Don't just take our word for it, read some of our customer reviews https://www.keytracker.com/reviews/
Keytracker customers know that key and asset security is incredibly important for any business and in order to accommodate every business budget we offer a unique flexible rental option on all items, as well as outright purchases. This ensures that any business can increase security and manage their keys and assets with a Keytracker product, no matter how big or small the company, or the budget, may be.
Keytracker Products
Please find the attached link to https://www.keytracker.com/media/videos/ showing a selection of Keytracker products, with a range of promotional videos to improve your understanding of what we can offer you and your customers.
As a Keytracker business partner, you will have the full support of all our back office and production staff, from assistance with quotations to optional drop-shipping of all products worldwide, using our trusted trademark or your own branding.
You choose the products and partnerships that will allow you to do what you do best.
Self-closing secure commercial steel cabinets with push-button combination day locks and multi-point keyed night locks.
The only Police approved heavy duty attack-proof self-closing secure commercial steel key cabinets, with push-button combination day locks and drill-proof multi-point keyed night locks
Steel shake-proof Key hook panels, hold up to 300 keys.
2- Keytracker peg units:
Mechanical peg-in, peg-out units or boards.
Single units used for tools, ladders, or equipment, ensuring the item or key set is always locked into its correct numbered position, or it is clear which individual has it because their initialled and department coloured peg is in its place and cannot be removed.
The keys or items are permanently attached with an anti-tamper seal, preventing individual theft when in use. (Many seal sizes)
3- The most advanced electronic key cabinets giving fast-recorded access to authorised staff, sending automatic reports and emails.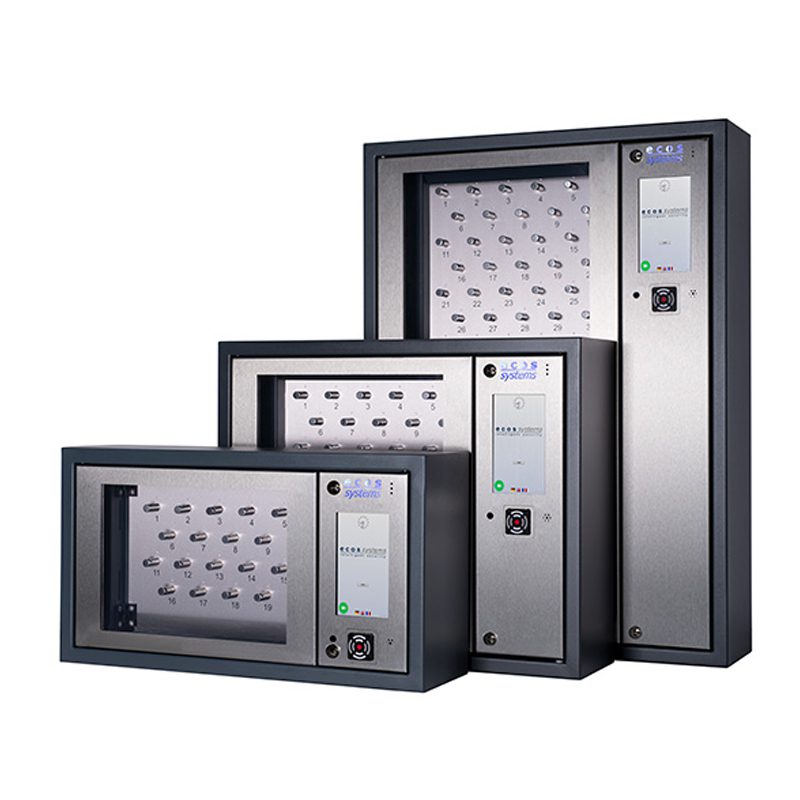 4- The most intelligent lockers with switchable software that will securely issue, store, receive or keep track of any number or size of items 24/7.
Magnetic number blocks in 6 colours
Numbered plastic key tags and matching mounting boards.
Numbered mirror hangers in 10 colours, personalised to the business.
Security seals of many types and sizes are removed when the keys or item are finally sold.
Engraved initialed access pegs in 15 colours
Engraved numbered white retaining pegs.
Electronic key system RFID pegs, engraved.
Partner Options
Keytracker partners may choose to handle only their preferred products, areas, or sectors.
These may be geographic or vertical such as Liverpool or hospitals, etc
Partner options include:
A- Introducer - simply find the potential customers with their broad requirements and pass it to Keytracker head office. We will then liaise directly, supplying all the information and quotations to allow the client to make a fully informed decision. - You will make 5% dependant on contract and order value.
B- Agent - as an introducer but with more involvement both during and after the sales process, including being the client's first point of contact and the "face" of Keytracker providing a more personal approach. - you will make between 2.5% and 10% depending on contract and order value.
C- Partner - this can take many forms, dependant on your preferred business model. Tell us where Keytracker would "ideally fit" into your business model and vision so we can both work out an agreement that allows you to make good margins, directly related to your input or customer base.
D- Reseller - completely separate business with no upper or lower volumes or limits. Allowing you to buy and sell products using your own pricing, rental, or leasing arrangements. Own branding is encouraged, with full use of Keytracker technical support and optional direct customer contact using your company name. Margins are generally around 30% on mechanical products but can vary from 2-50% depending on products, stock held, payment terms, contract and support required.
E- Distributor - the same as a reseller but using the Keytracker branding and price list.
F- Installer - you may choose to only install Keytracker products on behalf of us or our partners both in the UK or worldwide. You choose the geographic area and advise us of the level of your expertise (hardware only, software, networking, cloud, etc) and we will train & work with you accordingly.
The upfront cost is £395 to cover the mechanical demo kit with ongoing training and support.
We are proud that all innovative Keytracker products are U.K. designed, manufactured, programmed, and maintained by our own dedicated full-time employees.
Should you have any additional queries about any of the Keytracker products please contact the team at any time or sign up to the Keytracker website.
We look forward to working with you.