Mechanical Cabinets & Locks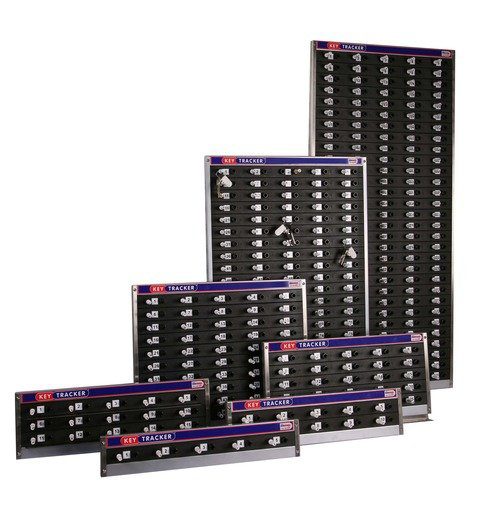 Keytracker stock a huge range of mechanical cabinets, our cabinets are made from bespoke steel, each of our key cabinets is designed to hold a maximum of two mechanical key systems or it can hold two hook panels, one that fits inside the cabinet and one on the back of the door.
Each of our mechanical cabinets is designed with our client's needs in mind. All of them are heavy-duty and come with self-closing hinges, and have a digital push-button lock system. We offer left-hand side or right-hand side opening, finished in a neutral powder coating that can be in any colour, all of our cabinets come with internal channels which makes panel and board fitting and removal simple.
Also in our range, we offer a glass-fronted cabinet and one with a mirrored front so that if anyone is lurking behind you will easily be able to see them, this stops anyone from seeing the code you will be entering into the push-button entry lock system.
Keytracker has the only police-approved secure key cabinets available. They come with reinforced stainless steel at all entry points and armoured security locks at the top and bottom, these have a reinforced case, 7mm thick deadbolt, and a plate that is drill resistant and rotating, this offers maximum security, the mechanical code lock comes with key override and a handle and lock case in stainless steel. The door on the cabinet is self-closing, and there are a few other anti-theft surprises within this cabinet.
Enhancing The Security of Your Cabinet
There are many security accessories that can be added to your cabinets personalised to your requirements, such as access control swipe cards, these can be used with most of our electronic cabinets and locker systems. We also offer digital keypad locks that can be fitted to each door, a code can be used to lock and unlock keys and assets securely inside, allowing for a contactless drop off and collection solution. We also can provide and fit an RFID lock, this gives the ability to be remotely set up and cards allocated to locks or lock groups with our cloud-based software. We also offer fingerprint access, and signal blocking pouches. Why not give us a call and see which one would work best for you and your needs.
We have helped many different sectors using our mechanical systems, these include the automotive sector, transport & Fleet, and Property & Estates to name just a few, why not pop over to our sectors and case studies page to see who and how Keytracker has recently helped with our mechanical cabinets & lock systems.
Get in touch with us on 0121 559 9000 and speak to one of our experienced and knowledgeable team members who are on hand to help and answer any questions you may have.