Key Cabinets &  Secure Safes
Keytracker key cabinets & safes
Secure key cabinets
Keytracker provides a range of bespoke steel cabinets. Each cabinet is designed to hold a maximum of two mechanical key systems or two hook panels, one that will fit inside the cabinet and one that will fit on the back of the door.
Our key cabinets are designed to meet the requirements our clients need. They are heavy duty with self-closing door hinges, they have a digital push button entry lock system. Within our cabinet range you can choose left- or right-hand side opening, they come in a smart neutral powder coating which can be in any colour and all come with internal channels for simple board or panel fitting and removal.
We can also provide a cabinet with a mirrored front so you can clearly see if anyone is behind you watching whilst you enter the code.
If the cabinet you need is not suitable to be fixed to a solid wall, Keytracker can also provide you with a cabinet plinth which is a cost-effective way to support your key tracker system.
Police approved cabinets
Keytrackers high-security key cabinets are supplied with reinforced stainless steel at all entry points and top and bottom armoured security locks which have a reinforced case, 7mm thick dead-bolt and a drill-resistant rotating plate which offers maximum burglar resistance along with a mechanical alpha/numerical code lock with key override and a handle and lock case in stainless steel. The door is also self-closing. The cabinets are offered in 4 sizes. The police approved cabinets are optional at 25% additional cost.
These have been tested and awarded a Secured by Design licence by the police.
 Dependable Personal Safe
We also have in our range a dependable personal safe. It is an electronic safe that can keep essential items close to hand but secure. It has an easy-to-read blue led display and wall-mount and soft-touch keys. There are three methods to access the personal safe, you can use the 4-digit user code, 4-digit administrator code and there are also two override keys. Inside the safe, there is a key rack for keys and a removable tray for your smaller valuables.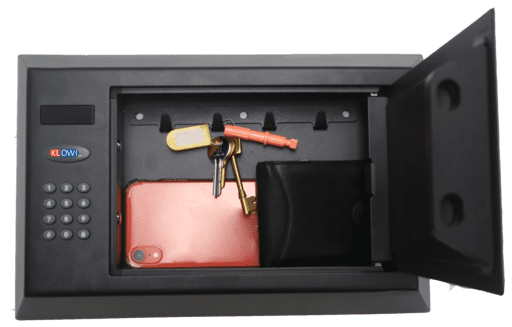 Contact us today on 0121 559 9000 to discuss your requirements with us