Commercial key cabinets at Keytracker
Keytracker offers bespoke commercial key cabinets, our bespoke steel cabinets are available in four different sizes, in each of these cabinets you can have a maximum of two mechanical key systems or two hook panels, these can be situated inside the cabinet and one on the inside of the door.
Glass front commercial key cabinets
We design our glass-fronted cabinets with our client's requirements in mind, our cabinets are heavy-duty with hinges that are self-closing. We offer a left-hand side or right-hand side opening. The glass-fronted cabinets are covered in a smooth neutral powder coating  (they can be produced in any colour to suit your brand/company colours) all of our cabinets have internal channels allowing simple board or panel fitting and removal. If you do not have sufficient wall space we can also supply a cabinet plinth for your cabinet to go onto.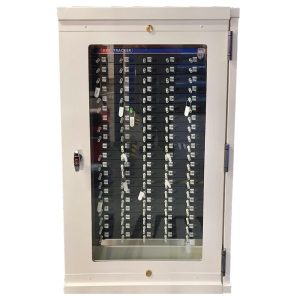 Police approved secure commercial key cabinets
Amongst the commercial key cabinets we supply here at Keytracker, our high-security key cabinets are made with reinforced steel at all entry points and have top and bottom armoured security locks that also have a reinforced case, 7mm thick deadbolt and a drill resistant rotating plate offering maximum burglar resistance, they are the only police approved secure commercial key cabinets.
Mirrored front commercial key cabinets
Keytracker's cabinet with its mirrored front is perfect for extra security so you know if anyone is lurking behind you noting down the code you may have entered, you can also check you are looking smart and tidy when you go to collect the keys out of the cabinet.
Here at Keytracker, we strive to create commercial key cabinets that are suited to the customer's individual needs, we are constantly working to develop new products to fill gaps in the market.
We have vast experience and expertise in managing keys and assets, so why not give us a call today and discuss your needs with one of our friendly and professional team members.